BUD EKINS SPECIAL EDITION MOTORBIKES
BUD EKINS
Desert Racer. Stunt rider. Genuine motorcycle legend.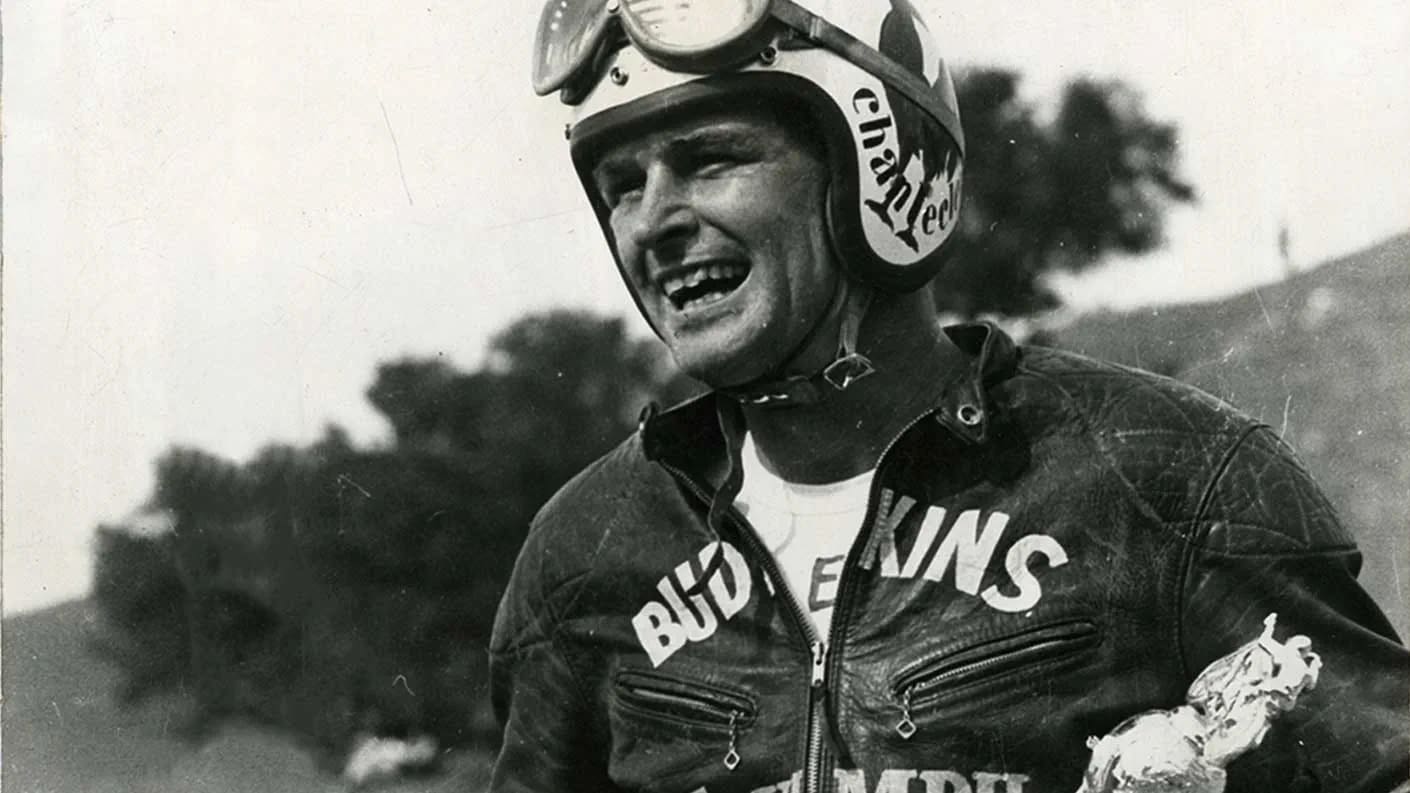 1962. A huge Hollywood production team is in Bavaria, preparing to film a daring motorcycle jump that will provide a gripping iconic sequence for the action-packed escape scenes in the all-star blockbuster movie 'The Great Escape'.
Set during World War Two, Steve McQueen's leading character must make a dangerous motorcycle jump over barbed wire in a desperate effort to evade capture by enemy soldiers. To risk an injury to the movie's biggest star in a movie full of big stars is of course unthinkable, so instead all turn to Bud Ekins. He's McQueen's close friend, and here because the Hollywood A-lister has invited him to perform a few ride chase stunts for the film.
Ekins is no novice rider. He's already an off-road racing legend in his native California who can draw upon around twenty years' global motorcycle racing experience and has multiple awards for his riding exploits. Everyone at the movie location understands the incredible level of riding skill required to make this jump.
But McQueen knows that if anyone can do this successfully, Bud Ekins can...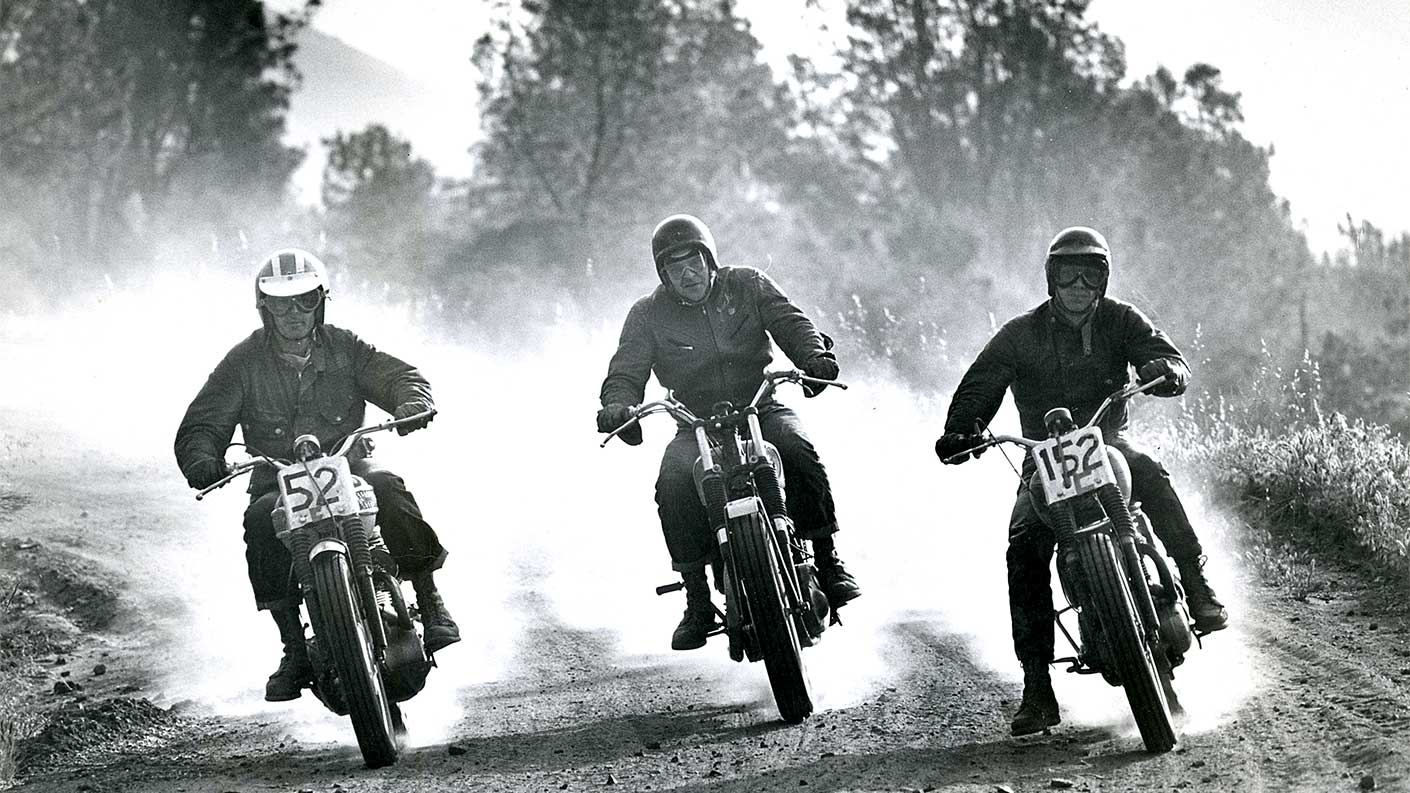 RACING STAR
Born in Los Angeles in 1930, Bud Ekins learns to ride in the nearby Hollywood Hills, honing his off-road skills long before he could legally ride on the road. Luckily, California is host to a thriving off-road racing circuit and even by his late teenage years he is earning a mighty reputation as one of SoCal's top motocross and desert racers.
By the time US Triumph superdealer Bill Johnson provides Ekins with a TR5 Trophy, on which he wins the Catalina Grand Prix, Ekins knows well that in Triumph he has found a manufacturer that builds the kind of strong, fast and light motorcycles with all the agility, responsiveness and power that he yearns for.
Ekins' success in the mid-fifties coincides with Triumph's emergence as a major player in world motorcycling, with both parties playing their roles in re-defining what a motorcycle is capable of.
Triumph's famous MD, and design chief, Edward Turner continues to develop incredible Triumph twin engine motorcycles that are becoming increasingly powerful, efficient and reliable. Johnny Allen holds 1955 and 1956 motorcycle land speed world records using Triumph factory engines, and Ekins is forging a lasting alliance with Triumph motorcycles that will ultimately see him regarded as America's top off-road racer.
In 1956, when Ekins finishes 2nd in the 153-mile off-road Californian Big Bear Motorcycle Run, the first-, second- and third-placed riders were all on Triumph TR6 Trophy motorcycles. Triumph's racing domination was such that when Ekins won the same race the next year, 20 of the top 25 finishers all ride Triumphs.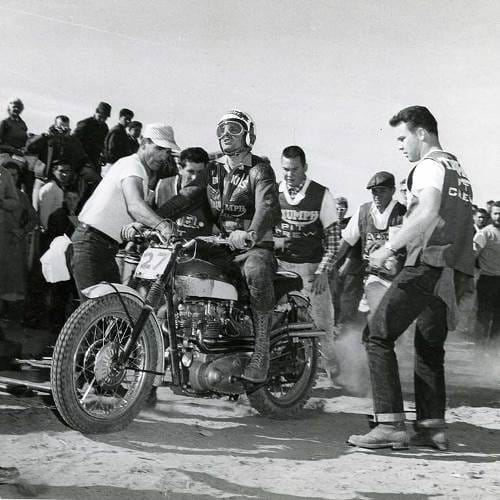 TOP US DEALERSHIP
Shrewdly understanding the massive potential and performance superiority of Triumph motorcycles in the context of an emerging popularity for the more reliable, lightweight and powerful British bikes, Ekins' racing successes leads him to open a Triumph dealership in North Hollywood.
It quickly becomes a magnet for many young up-and-coming movie actors including Paul Newman and Clint Eastwood. Ekins lives and breathes Triumph motorcycles and selling them comes naturally, leading to considerable business success to go with his considerable racing achievements.

STEVE McQUEEN
One local motorcycle enthusiast is Hollywood legend Steve McQueen. His favourite early bike is his TR5 Trophy, which is serviced by none other than Ekins' dealership where the pair strike up an instant rapport. Ekins introduces McQueen to the burgeoning Californian desert racing scene and the latter is instantly hooked on this exciting underground movement, spending as much time as he can either hooning across the dunes or just enjoying the anonymous normality of passing time with Ekins and his rider buddies back at the garage.
In spite of the demands of running a successful Triumph dealership Ekins is still racing, successfully competing in several off-road races including the Hare and Hound, Mint 400 and Baja 1000 (which he helped establish). McQueen often joins him to race. He's a fast learner and a fast rider, and as Ekins is such a highly regarded rider who has previously represented the US in the incredibly high profile International Six Days Trial - the Olympics of motorcycling - he facilitates McQueen's famous entry to ride for the US team in the 1964 East German ISDT – both on Triumphs. Ekins would go on to win an impressive four ISDT Gold Medals in just seven years.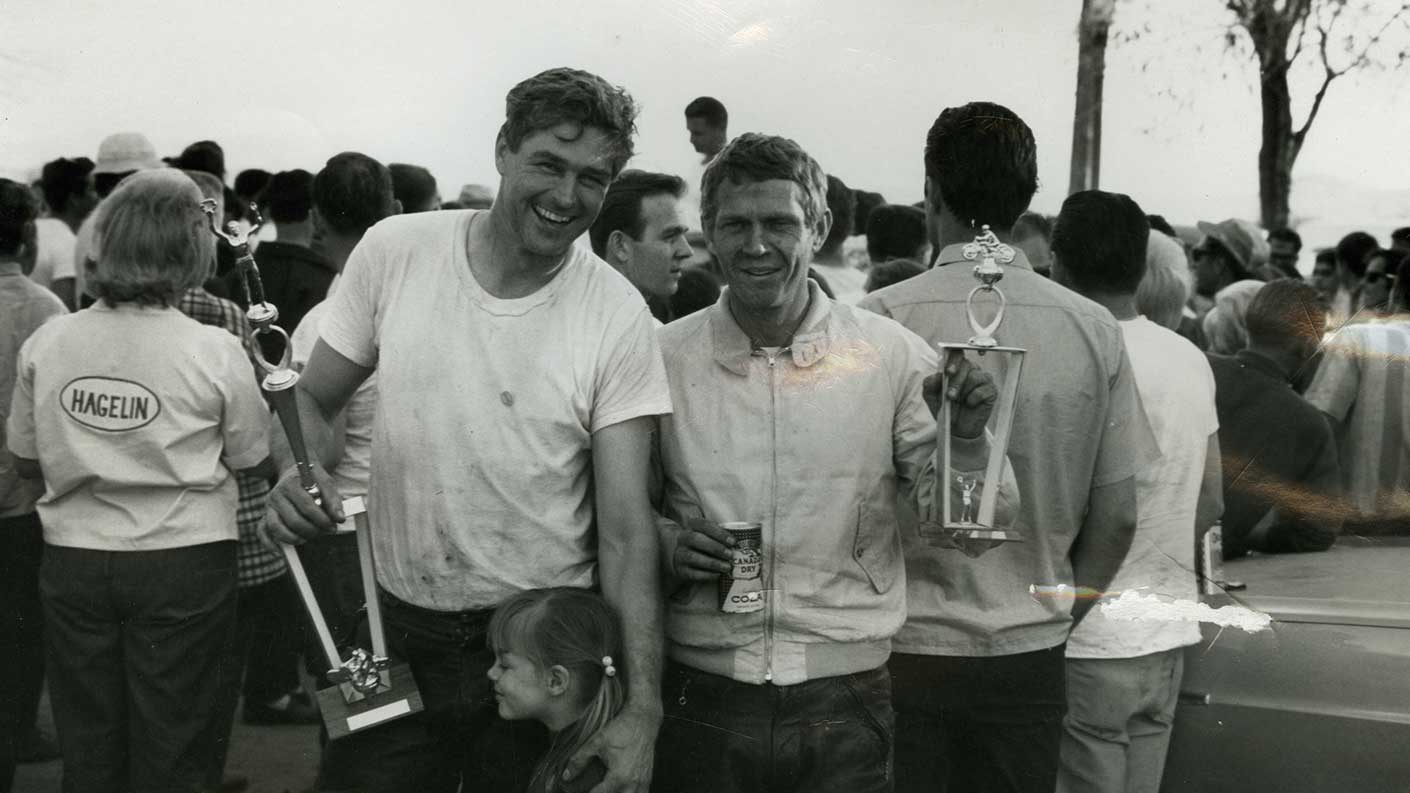 THE GREAT ESCAPE
In autumn 1962, McQueen is preparing to fly to Europe for filming what would become one of the following year's highest grossing movies, The Great Escape. McQueen notes the script requirement for several motorcycle stunt riders and recommends his good friend to the producers. Ekins is employed on a four-month contract, though it takes far less than that for McQueen (with Ekins' help) to conceive of and rewrite the dramatic highlight to his character's storyline.
McQueen's character, Captain Virgil Hilts has escaped a prisoner of war camp, stolen a bike, and is being chased through stunning Bavarian meadows in an attempt to locate the Swiss border. As enemy soldiers close in, Hilts must desperately make a spectacular motorcycle jump over a high barbed wire fence, and thereafter reach the relative safety of neutral Switzerland.
Between them, using small trial and error practice jumps, McQueen and Ekins work out the capabilities of their favourite off-road choice, a Triumph TR6 Trophy, to squeeze maximum dramatic effect from the scene. They calculate that an 80mph run-up is required to clear a raised twelve-foot barbed-wire fence onto an inclined landing area around 60ft away. All on grass. Much to his frustration, McQueen is sensibly prevented by the movie's insurers from performing the stunt himself, so Ekins steps up.
The jump is still one of the most iconic moments in Hollywood movie history. In 1962 a TR6 Trophy would redline at 6,000rpm and peak at around 42bhp, but the powerful Triumph engine responsiveness and its mighty twin torque makes it McQueen's and Ekins' first choice, and the restored bike on which he successfully completes the jump as seen in the movie is currently on show at Triumph Motorcycles' Factory Visitor Experience at Hinckley.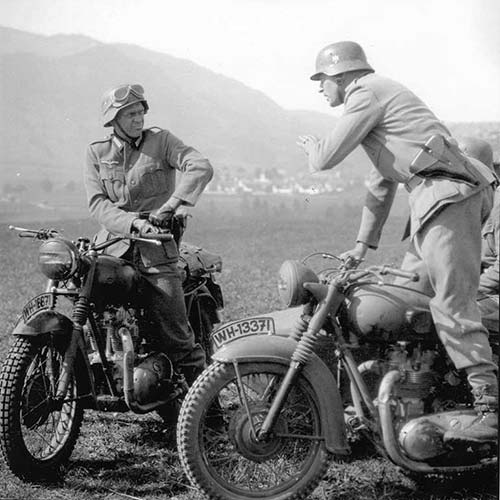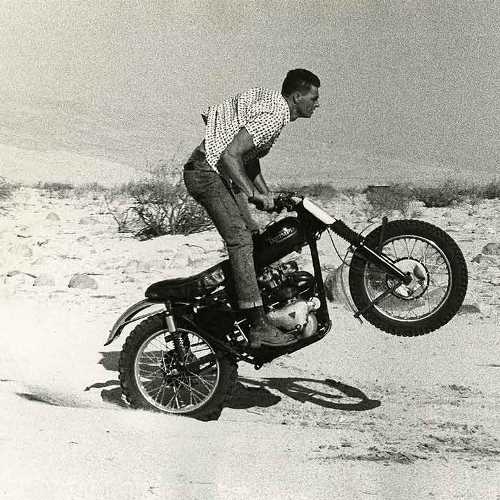 STUNT RIDER
Ekins' racing success and friendships open up a new career path. As 'that jump' gains the widely-held distinction as the most famous motorcycle stunt ever seen in a movie, the demand for Ekins as a stunt rider increases. Considered one of the best in Hollywood, he'd continue performing movie stunts for the next 30 years or so, happily returning to his dealership business in between filming responsibilities.
TRIUMPH BUD EKINS SPECIAL EDITIONS
Bud Ekins was a true off-road racing star, America's top Triumph dealer in the 1960s, stunt rider extraordinaire, and with the Ekins Bonneville T100 and T120 we celebrate his life, his achievements, and his long association with Triumph.
The Bud Ekins Bonneville T100 and T120 are truly special editions designed to be as iconic as the great man himself.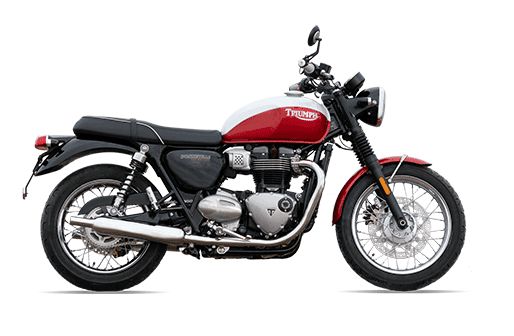 T100 BUD EKINS SPECIAL EDITION
Inspired by Triumph's iconic 1959 Bonneville, the T100 is already a modern classic with a distinctive character and original Bonneville DNA. This fun and accessible, 900cc twin powered, special edition celebrates Bud Ekins' outstanding achievements as a top desert racer, the biggest 60's American Triumph dealer, and Hollywood stunt rider.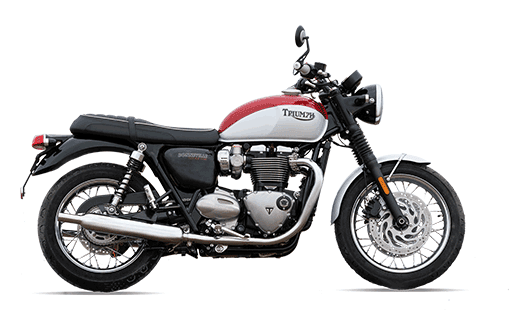 T120 BUD EKINS SPECIAL EDITION
With all the attitude, style and silhouette of our original '59 Bonneville, this new beautiful special edition T120 celebrates the incredible life and achievements of American desert racer, stunt rider and motorcycling icon Bud Ekins.