Motorcycle Jeans
Bold designs and original styling. Just like our motorcycles.

Sitting comfortably? Triumph's whole range of motorcycle jeans has been designed and developed in-house by our own development teams, so we know they're perfect for your ride, whatever you ride.

With all Triumph's exclusive motorcycle jeans, you never have to compromise the look you want for the comfort and performance you demand. And just as we're obsessed with delivering the complete riding experience, our premium legwear is also designed to provide maximum satisfaction for your riding needs.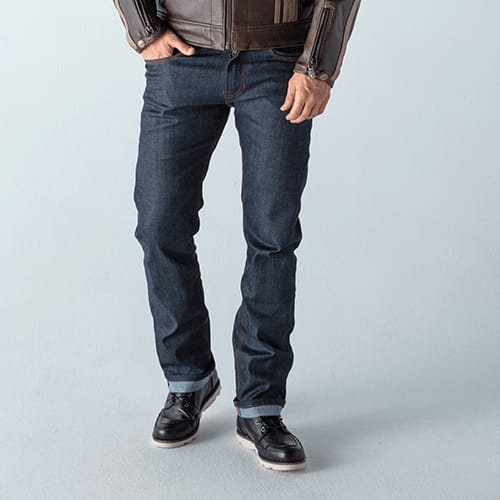 LITE RIDING JEANS - Perfect for laid-back road riding, this slim fit legwear is made with ProModal denim; 2% Lycra and 60% lined PEKEV® Lite abrasion resistant material which provides increased defence and breathability for comfort while riding. Supplied with removable D3o® protectors and reflective hem detailing for added confidence, and five pockets.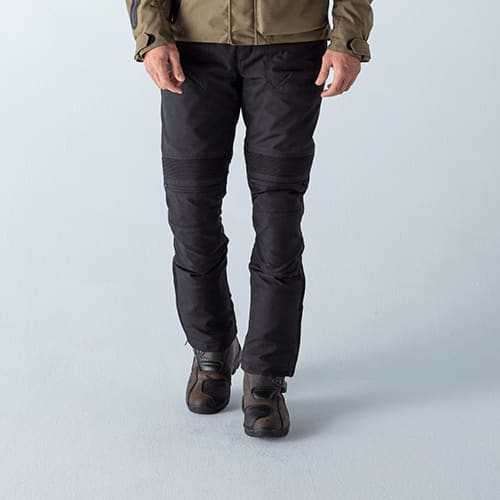 TERRA GTX JEAN - The robust Texland outer fabric of this tough versatile garment is designed with stretch flex zones and ankle adjustment capability for added comfort and flexibility while riding. In addition to the removable Gore-Tex® 'LTD' liner, the Terra GTX Jeans also benefit from removable D3o® hip and knee protectors, and five convenient water-repellent zipper pockets.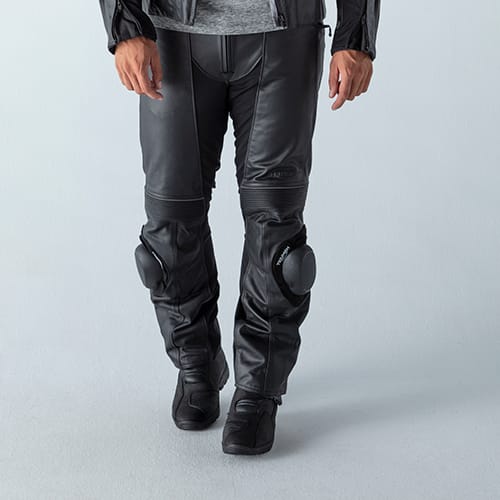 ZORA GTX JEAN - Constructed with durable yet comfortable leather panelling on front and back, these stylish jeans also have waterproof breathable Gore-Tex® z-liner membrane, stretch fabric at the inner leg, and flex zones that all add to rider comfort and flexibility. Removable D3o® hip and knee protectors, and removable knee sliders, complete the performance statement look.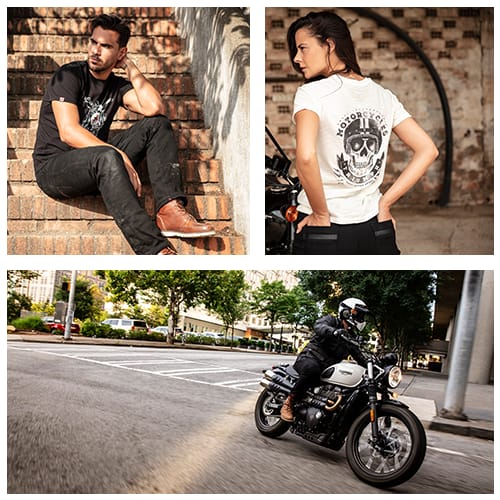 Classic
Triumph modern classic motorcycles are all about maximising the fun and enjoyment you get from a being at one with a powerful responsive bike that delivers world-class handling.

And to make the absolute best of Triumph, shouldn't you look the part? It's why our specially-designed classically-styled branded motorcycle jeans set style standards you can effortlessly make your own.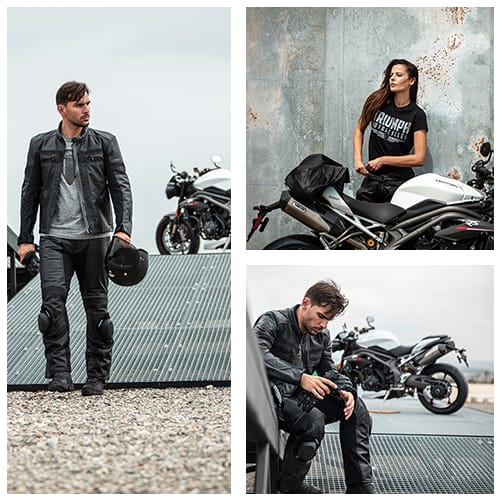 Roadster
Precision riding with power and purpose; Triumph's roadster motorcycle range is packed with cutting edge innovation and a large unapologetic dash of attitude.

So given that you don't compromise on your choice of motorbike, there's no reason why you should have to compromise on your motorcycle jeans either; rest assured, we have styles to satisfy all.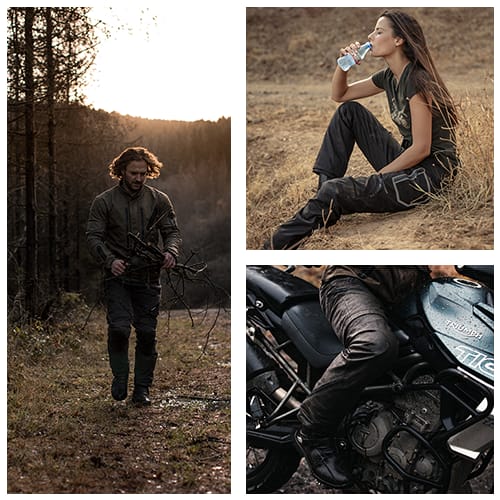 Adventure
When your Triumph ride satisfies that unquenchable spirit of adventure, the ability to enjoy off-road excursions means you also need total confidence in your equipment and clothing too.

Whether you're seated or standing, adventure riding makes some unique demands on the legwear you choose; which is why our unique range is designed to be perfect for your ride.
DESIGNED BY RIDERS, FOR RIDERS.
Find your nearest retailer to view our latest clothing collections.
Find a Retailer