MOTORCYCLE FOOTWEAR
Bold designs and original styling. Just like our motorcycles.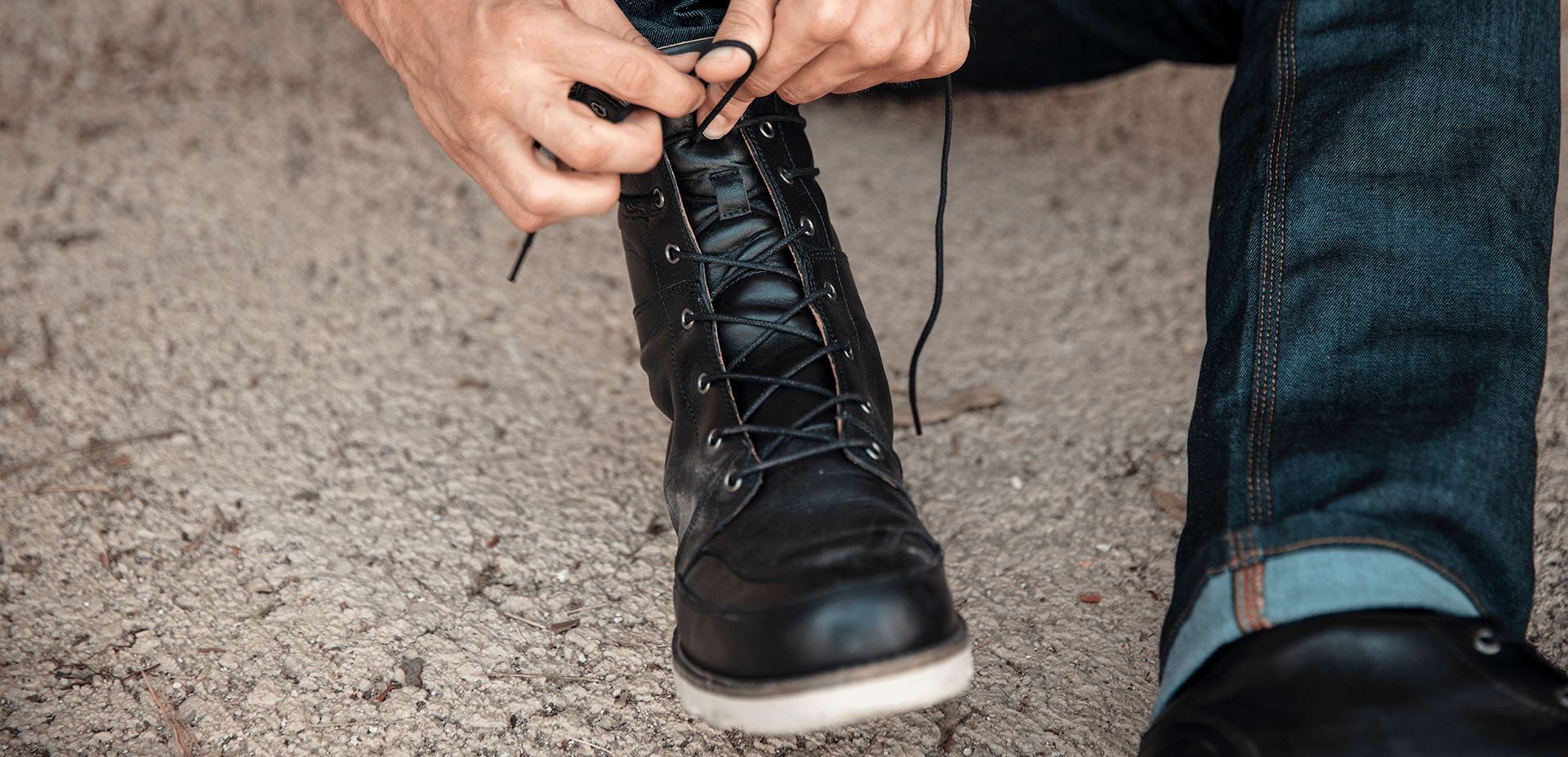 The comfort and safety of your feet is of course a fundamental necessity when you're riding, and Triumph footwear is designed and developed in-house to perfectly meet the needs of every type of motorcycle enthusiast. They really are designed by riders, for riders.
As you'll appreciate, Triumph footwear is hard-wearing and robust, but with all the flexibility required to give your feet the freedom they need while you're riding. They're also designed to look great with your Triumph motorcycle!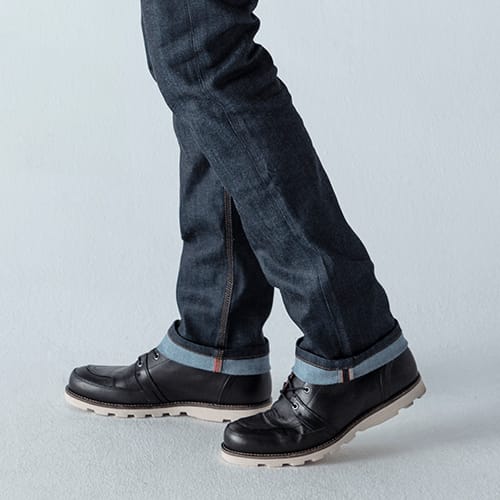 STOKE BOOTS - A perfect footwear choice for both when you're riding and when you're not. Available in stylish black (or eye-catching tan) with full-grain leather outer, a superior vintage finish, breathable leather lining, padded ankle for extra support, and also designed to withstand repeated motorcycle gear changes, these durable boots are a reliable hard-wearing footwear accessory for your ride.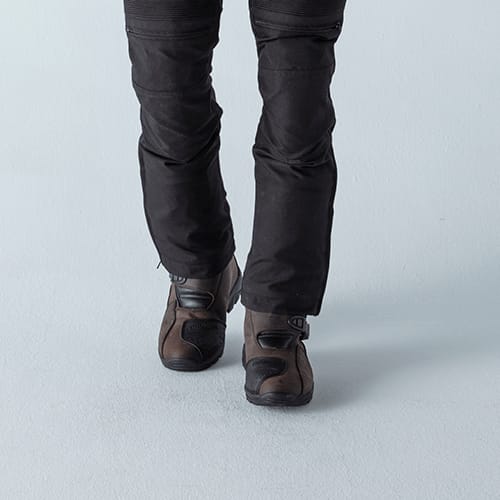 DIRT BOOTS - When you're testing your adventure riding to your limits, these Dirt Boots are an ideal choice of durable footwear. Stylish branded design features includes full grain leather outer, adjustable triple buckle fastening system, waterproof, windproof and breathable Z-liner, and reinforcements including rigid midsole, TPU-protected ankle area and hard plastic shin protection for extra peace of mind.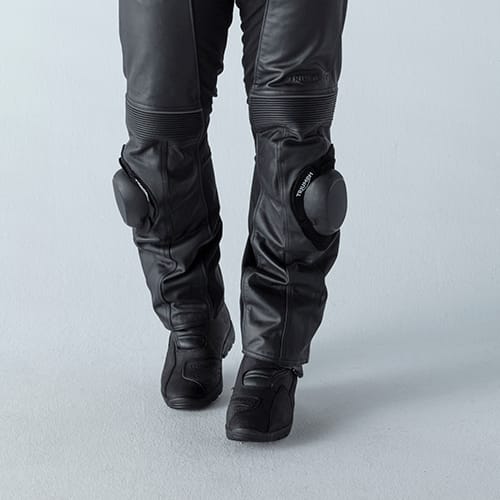 BRADLEY BOOTS - Distinctive boot with full grain leather outer and subtle Triumph branding, our Bradley Boots are comfortable, durable and tough with a robust construction that includes waterproof, windproof and breathable Z-liner, anti-slip lightweight rubber sole with steel shank in midsole, reinforced ankle area, plastic gear pad protection and adjustable buckle fastening system.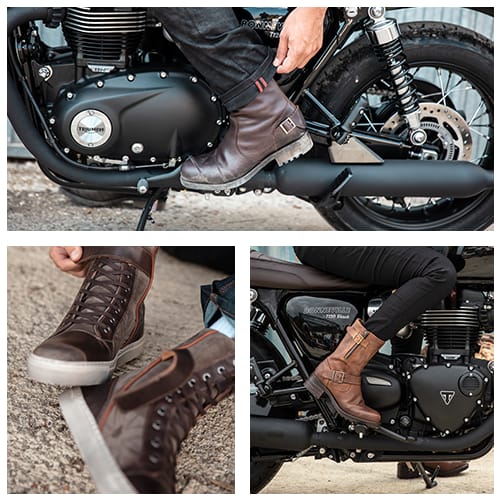 Classic
Delivering the ultimate motorcycle experience is what we want for every Triumph rider, and our latest modern classic footwear range is designed to meet all your expectations.

Keep your style authentically classic by choosing from our incredible selection of exclusive in-house developed footwear; all designed to provide many outstanding options for your perfect Triumph ride.
Roadster
When you demand style, precision, and performance from your motorcycle, it's natural that you demand the same from your motorcycle footwear.

At Triumph we style and design all our motorcycle boots with the ultimate objective of maximising our riders' enjoyment every time they ride their motorbike.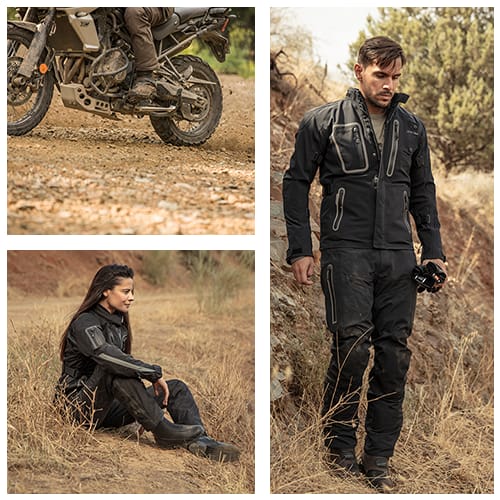 Adventure
Freedom and versatility are key factors when your motorcycle priorities include fully embracing the pure joy of adventure riding.

Triumph's superb clothing range means you can choose adventure boots that are stylish, tough and practical enough to keep you riding wherever your adventures take you.
DESIGNED BY RIDERS, FOR RIDERS.
Find your nearest retailer to view our latest clothing collections.
Find a Retailer